Course details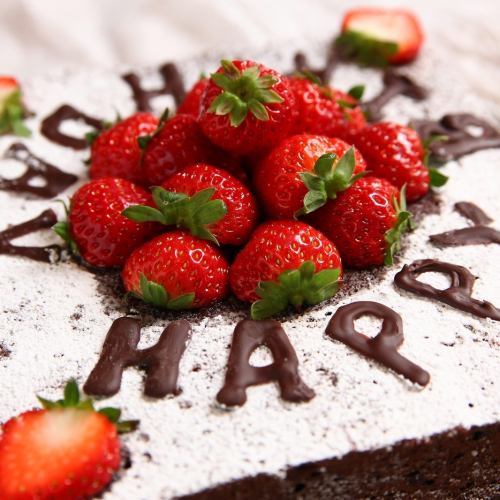 【Anniversary Course】 All 8 items including popular cuisine with special brownies 120 minutes Including free drinks 3,500 yen
8items

2persons

-

All-you-can-drink available

All-you-can-drink draft beer and rich lemonade cocktail at +1000 yen!
Special course recommended for anniversaries and birthdays ♪ All 8 items of meatballs and garlic bullets as popular menu! Volume perfect cuisine will celebrate the anniversary happily.All-you-can-drink all-you-can-drink on course price +1000 yen · Unlimited drinks with over 70 different types of lemonade cocktails including all kinds of lemonade cocktails!
Course menu
【Introducing the most popular free 3 great benefits!】
◇ Surprise production with fireworks, lighting, music
◇ Present photos taken at our shop
◇ Celebration from men to women is a mini bouquet present
【cuisine】
☆ Three appetizers
· Smoked Salmon Sour Cream Sauce
· Deviled Egg
· Smoked cheese & whole grain crackers
☆ Salad
· Kale and avocado, quinoa salad lemon cream dressing
☆ Meatball
· Chicken & spicy pork's meatball BBQ sauce
☆ Bullet
· Garlic bullet
Fry
· Onion rings & fried potatoes
☆ dessert
· Special brownie cake
* Some contents may be changed depending on the purchase situation
All-you-can-drink menu
· 【LEMONADE COCKTAIL 1】
· American lemonade,
· 【LEMONADE COCKTAIL 2】
· 【SOUR】
· Lemon Sour · Lime Sour · · Grapefruit Sour · Oolong High
· 【WHISKY】
· Black Nikka (Rock / Water split / Straight)
· 【HIGH BALL】
· High Ball · Ginger High Ball · Lemon High Ball · Lime High Bow · Cork High Ball
· 【WINE】
· Glass Red / White · Sangria Red / White · Carimocho · Kitty
· 【COCKTAIL】
· Cassis orange · cassis grapefruit · cassis soda · cassisumo 2 · fuzzy guest · peach grapefruit · peach soda · peachmoo 2 · litchi orange · litchi grapefruit · lycheesada · lychee 2 · gin tonic · ginger bag · ginfiz · orange blossom · boston cooler · ram cook etc .
· 【SOFT DRINK】
· Coke · Ginjaya · Orange juice · Grapefruit juice · Oolong tea · Coffee (ice · hot)
· 【SOFT LEMONADE】
· Homemade lemonade
· 【BEER】
·Asahi Superdry
Reservation deadline

2 days before the desired store date until 23 o'clock
Available days for reservation

Monday - Sunday - Public holidays - Holidays
2019/01/04 update